My previous entry in this blog was somewhere in June last year. Masa tu nearly finishing semester 2, now dah habis sem 3! Betul-betul xde masa and takde banyak nak share since work in progress.
Today, my semester 3 is officially ended. Of all semesters, sem 3 is often the most terrifying. For my PhD's programme structure (Faculty Business & Accountancy, UM), all students are required to take 4 coursework and 2 elective (total 6 subjects) and advisable to complete those by semester 2. And at the end of sem 3, we need to defense our proposal to confirm on our candidature. If fail to do so, we may have chance in the following semester and if still fail. Pencalonan akan ditamatkan. Before one pass the preliminary conditions like completing the coursework and more important pass your proposal defense, kita digelar 'PhD candidate' - calon aje ye.. jangan perasan lebih2 ;p Once you passed proposal defense and confirmed on your candidature barulah digelar 'PhD student'.Tu dia... macam-macam hal.
Many of my classmates (majority quit their jobs in 2nd semester and become full time student), ambil 2 subjects every semester, including me. Sebab tu semester 3 ni I still ada subject to take.
Proposal preparation
end of June 2012
- I completed four coursework by sem 2. Actually walaupun sibuk dengan kelas, I still have to work on my proposal concurrently. In fact in every class, assignment mesti suruh come out with title and proposal. I came out and proposed quiet a number of titles to my supervisor since the beginning. Due to my limited knowledge, literature search and many others, my previous proposed topics were rejected.
Habis je sem 2 ni, I lebih serius working on my proposal. By hook or by crook, dah nak kena defense proposal the following semester (sem 3). So bila habis je exam for sem 2, I met and discuss with my supervisor. After getting his feedbacks, menelaah lah semula literature and revise the proposal. Especially bila I tau that
I'm pregnant
, lagilah I rasa I should not procrastinate any longer.
July 2012
- I submitted another proposal. Again, it is rejected not the whole idea but I have no idea dah macam mana nak revise topic tu. He he
August 2012
- Until one day, I suddenly thought of a topic. A totally different topic but still in the same area, Information System (IS). Jadi, menulis lah lagi proposal yang serba baru.
This was when I shared with my supervisor that I'm expecting and he was surprised hahaha He probably a bit worried whether or not I can cope but I convinced him that my children or other commitments are never be the show stopper. Kalau I tak buat kerja or not progressing, itu adalah disebabkan penyakit MALAS I sendiri. I harap dia percaya, sebab memang kadang-kadang Amir kacau mommy buat keje.. ;p Tengok ni...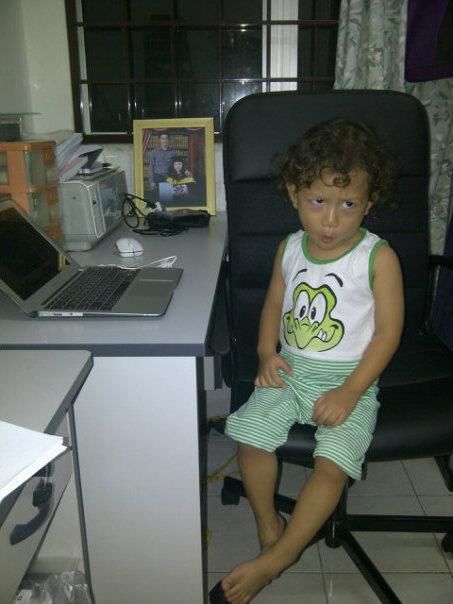 He conquered my workstation!
September 2012
- I came out with another proposal and luckily my supervisor likes my idea. So we deliberate further that topic so it become more solid. He then suggested to submit that topic for a conference. I have only about 1 month plus before the submission due. Hectic. Moreover, sem 3 has started meaning that I have classes to attend.
Oct, Nov and Dec 2012
- Memang sangat hectic. Many times I balik lewat from office, nak setelkan kerja office and completing my paper for conference, assignment and proposal. Stressful.
I finally managed to submit my paper to GITMA conference, if accepted, I will be presenting in June 2013.
Oleh sebab stressful, kena lah pergi jalan-jalan kan.. So kami mempercepatkan
year end trip
, tak perlu tunggu hujung tahun. Apetah lagi I ada exam on 4th January, right after new year holiday.
Budget nak study hard masa cuti new year lah kan... Study smart aje, siap pergi PD on new year eve sebab nak tengok firework ;p My sister in law stay at Thistle, PD, so we just crashed in her room that night.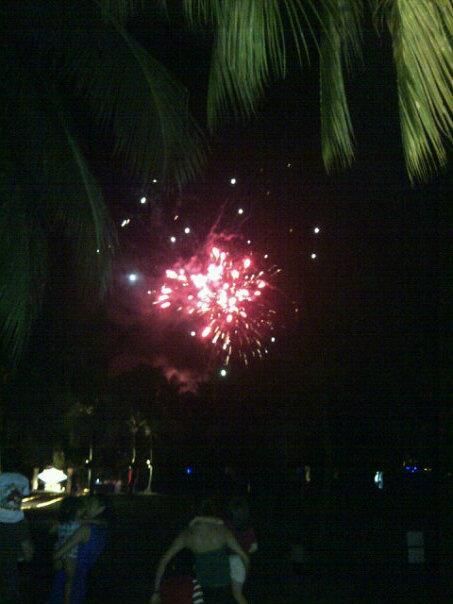 Jan 2013
- on the 1st Jan, I rasa badan sangat lemah. I thought maybe sebab penat malam tadi tidur quiet late. So i didn't do much just lied down, until somewhere in noon, I
rasa contraction
. 3-4 minutes apart for almost 3-4 hours. I dah risau if jadi macam masa Amir dulu. Dah la ada banyak nak study... sekarang menyesal tak sudah kan? Hehehe
Until 2nd Jan, i memang rehat aje sebab once in awhile ada contraction. Alhamdulillah on the 3rd, I boleh continue study. I thought, worst case scenario, since I memang on medical leave for 5 days, if possible, I sit for exam in a later date. I was so grateful I woke with a healthy body on the 4th. Lepas Subuh, terus ke UM city campus to sit for my final exam.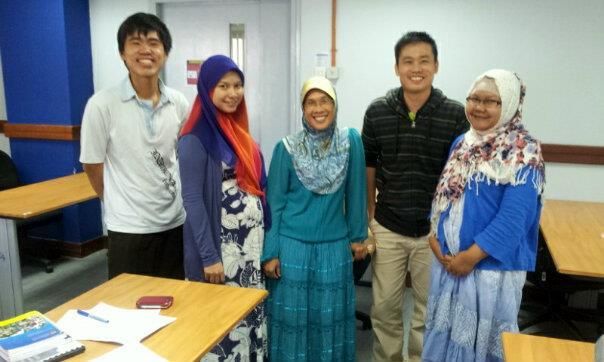 And YEAYYY! Final exam is over!! Syukur diberi kesihatan untuk jawab exam.
Tapi, tidak sepatutnya terlalu happy, kerana battle yang sebenar ialah proposal defense. Once habis exam, I started working on proposal defense - on and off with office work - kelas mengajar di UCSI pun dah bermula...
Hari Ini Dalam Sejarah -
21st January 2013
My big day. The day that I have to defense my proposal to the examiners and panels. There were 8 of them including my supervisor - Dr Shamshul Bahri (blue shirt). Dan juga disaksikan oleh senior students and other candidates.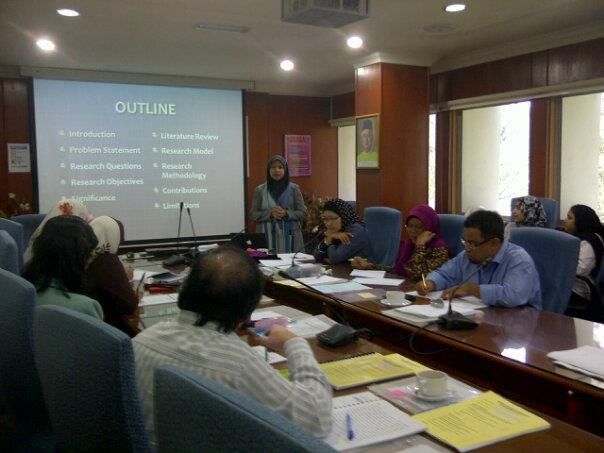 Here's the presenter ...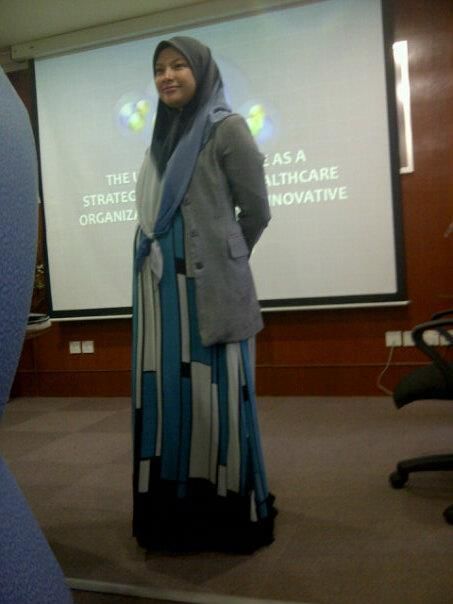 Ready or not, muka perlu confident. Hati... hanya Tuhan yang tahu. Kalau boleh, tak nak repeat present and I just want to get over this.
Maka, bermula lah aktiviti 'menjual idea', test market.. kot-kot laku di kalangan mereka yang expert ini.
Bila kita kat depan, tengok macam-macam reaksi muka orang yang mendengar presentation kita... ada yang berkerut dahi, ada yang nak terlelap, ada yang terangguk-angguk... Mulut cakap lain, dalam otak fikir lain --> Apa lah diorang nak tanya lepas ni huhuhu
The time allocation for presentation is only 15 mins, and another 40 mins untuk feedback session. Berpoloh dahi!
Basically, soalan yang ditanya, boleh dijawab.. atau sekurang-kurangnya ada jawapan. But whether or not that answer satisfy the question... orang yang bertanya aje lah yang tau. Lepas dah present, nak kata lega sangat pun tidak, sebab result belum tau.
There were only 3 presenters for my department. I was the 2nd one. Selesai presentation from the last presenter, kami 'dihalau' keluar supaya panels boleh discuss and buat keputusan. Dr Shamshul suruh makan dulu since the food is provided. Harus takde selera. Sementara diorang berdiskusi kat dalam, kami, students berdiskusi di luar mengenai untung rugi nasib kami.
Nearly half an hour, kami dipanggil masuk. Dr Shamshul at first, wrap up the feedbacks, opinions for each student. Basically I just need to convince them and provide justification why choosing the research model I presented and to think about the access to get data, in their opinions that could be difficult but I think it's doable.
And finally, the result announcement. All three passed the proposal defense! Alhamdulillah. I am so grateful especially I only have to do minor revision in order to improvise my title. And I'm really looking forward for improvement. Their feedbacks are indeed useful.
Though, this is just the beginning but I was overwhelmed with gratitude that I passed and this will definitely motivates me to work even harder thereafter. Now barulah betul-betul rasa buat PhD ;p
There's still a long way to go... My plan is just to keep progressing, no pressure to complete in any shorter duration tapi kalau ada kemampuan untuk buat cepat, lebih baik. My family is also expanding, soon I have another precious akhirat asset to take care of... and they always at the top list. I may not sacrifice much of my time that I should spend with them just because of something else. Anything else can wait.
So can I be called a PhD student now? :) In shaa Allah, awaiting for the official result to be released. One of the senior students congratulated and told me that I'm the strongest presenter among others. Alhamdulillah.
Oh ya, the final comment for me after they wrap up.. Prof Ainin kata 'Now u boleh pegi bersalin' ;p
Tulang belakang saya....